Clothing
Clothes have long been said to make the person. If you stop and think about it, you typically feel the way that you dress. You don't need designer clothing to make you feel like a million bucks, all you need is to understand a few simple apparel rules and guidelines. While it is true that one person's taste in clothing is going to be different from someone else's (and no where is this more readily apparent than in women's clothing), this does not change the fact that these guidelines apply to everyone the same. Learn all the ins and outs of fashion quickly, easily and without pain here.
Tips, Tricks, and Answers
The following articles are available for the 'Clothing' topic. Click the article''s title (shown in bold) to see the associated article.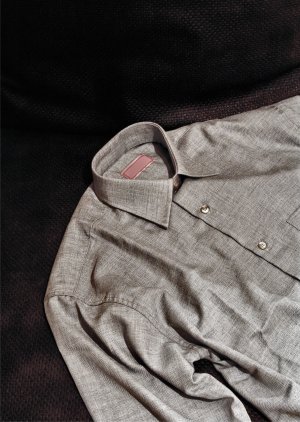 Achieving the Sporty Look
Some people just aren't athletic and have a hard time pulling off sporty clothes. What they don't realize is that the look is different from the lifestyle and you can have one and not the other! "Loose" is the key to remember.
Advice for the Fashion Impaired
Looking good can be easy if you have a few good pieces to work with. Look for classic cuts and a comfortable fit in your clothing. Give yourself the credit you deserve, you can look good in anything you want if you have the confidence.
Buying a Man's Suit
Nothing can change a man's look faster than putting on a suit. A good suit that fits well can give a man a more confident image. Knowing what to look for when buying a suit will keep the stress level down. With these simple guidelines you will be wearing a suit that looks great on you.
Buying Clothes on a Limited Budget
Unfortunately with the way the economy is, it seems harder than ever to stretch the clothing budget. There are ways that you can still look fabulous, even on a limited budget.
Choosing Attractive Sportswear
While the obnoxious tracksuits of the seventies were anything but sportswear for exercise enthusiasts, they were the precursor for the clothing worn by exercise gurus of the eighties. Today, we combine fashion and function in our sportswear, with new materials that wick moisture from the skin, and thermal lightweight clothing that helps protect us in cold weather.
Choosing Sunglasses
Trying to find the right pair of sunglasses can be frustrating, especially if you are not sure what you are looking for. With just a few simple guidelines you can have the perfect pair in hand.
Choosing the Best Black Dress
Wanting to have a functioning wardrobe? There is a staple that is a must in every wardrobe, and that is the little black dress. This dress is like having a new best friend.
Choosing the Best Underwear
Your underwear should fit you well and provide adequate support. You have many cuts to choose and fabrics to choose from. Try many kinds on to find your favorite one.
Choosing the Right Stockings
Stockings are many times a thing to avoid for many women, but they don't have to be. If you know how to choose the right stockings for the right occasions, you can make an excellent fashion statement and make yourself appear at your very best.
Choosing Your Easter Dress
Choosing an Easter dress entails more than simply buying or making the dress. No Easter dress is complete without accessories of a bonnet or hat, shoes, and possibly gloves. Take into consideration fit for your body type, color for your skin type, and then accessorize to complete your Easter outfit.
Classic Easter Fashions
As with all fashion, classic cuts and designs never go out of style. The same holds true for classic Easter fashion. Choose classic designs and then accessorize them to show off your style. Shop early for the best selection, and remember—you don't have to wear pastels at Easter time in order to be fashionable!
Classic Fashions You Need
It's always good to have the clothing staples always ready at hand for whatever situation arises. You need clothes for the workplace, school, church, and your social life; to be without something you need is never fun and always a pain. So make sure you have the classic fashion staples!
Dress Codes for Social Events
Get confused about what to wear to all those social occasions? It can be confusing trying to understand and remember what all the dress codes mean. Here is reference list to help make the dress codes easier to understand and follow.
Dressing for a Formal Event
Dressing for a formal event, such as a gala or ball, can cause some confusion as to what is acceptable and what isn't. This tip provides a bit of guidance for both men and women.
Dressing for Romance
It's always exciting to dress for a date and you always want to look good for that one person. However, thinking clearly when infatuated is not always possible and so here are a few tips to keep your romance outfits stunning.
Dressing for Success
How you dress is important for being successful in today's world. You appearance makes important impressions, so make sure that you're making the right impression.
Dressing for Your Body Type
The human body is beautiful in all its shapes and sizes. Once you determine your body type you can find clothes that will compliment your shape. Enhance your best features and down play the areas you do not like.
Dressing for Your Figure
No one's body is just like another's and body figures run the size and shape gamut. The key to looking great is not dressing for what you think your figure should be, but rather dressing the figure you have.
Dressing in Layers and Still Looking Great
Even if you live in a warm climate, you can still dress in layers using thin materials. Dressing in layers can add visual interest to your wardrobe if you choose complimenting colors, and differing textures and patterns. No matter your body type, dressing in layers can make you look great if you dress to fit your shape.
Fashion Tips for the Plus-Size Teenager
History repeats itself when it comes to teenagers because all they usually want it to fit in and keep up with the latest trends. Fashion has always played a large role in teenagers' lives because it helps them show develop their individual identity, as well as showing they belong with certain groups of friends.
Fashion Tips for the Plus-Sized Woman
You have some great features. Go out and show them off with these tips!
Finding Quality Lingerie
While it's sometimes a great idea to shop at thrift and second-hand stores for clothing, it's best to buy lingerie brand new. You don't have to spend a lot of money for quality lingerie since even the high-end department stores have sales. When you want to buy fancy, sexy, or elegant lingerie, visit a specialty lingerie store.
Formal Dress Tips for the Plus-Sized Teenager
Formal wear can be tricky for you as a plus-sized teenager, but stick with these tips, and you're sure to come out with something that looks good on you.
Getting Rid of Panty Lines
Panty lines have the capability to ruin an outfit, so how do you insure that does not happen? The solution lies in undergarments that are smooth and don't ride. No more panty lines!
Great Looking Modest Clothing
In today's belly showing, chest spilling fashion world, it's really difficult to find clothes that are modest and look great. It's a constant battle many of us have to fight. Take heart fashion soldiers and see that modesty isn't so hard to come by if you know where to find it!
Great Looking Plus Size Clothes
Being plus size is not need for mocking as you may have grown up thinking. Especially in today's fashion world, it's not hard to find great looking plus size clothes to flatter your figure.
Hip Hop Clothing
Hip Hop is a very popular style of music. You can also find clothing that is inspired by this type of music, with many options for pants, shirts, accessories, and more.
How to Buy Men's Pants
Are you finding it difficult to buy a pair of men's pants? Whether it's your first time or your hundredth it can be frightening. Find out how to make it simpler by following just a few guidelines.
How to Hem Men's Pants
You can learn how to hem up a pair of men's pants in less than an hour. Taking pants to a tailor to get them hemmed costs both time and money. Save time in doing it at home with these easy instructions.
How to Shop at Thrift Stores
Want to shop at thrift stores but are just a little hesitant on how to find all those great buys that you hear about? Read on and learn some of the little secrets that can make your bargain hunting a success.
How to Use Fashion Neutrals Properly
What are fashion neutrals and how can you use them? These clothing pieces are very useful if you need to expand your wardrobe or you don't have anything that looks good with a particular item. Add neutrals to your wardrobe for more variety and a great look!
Looking and Staying Cool in Hot Weather
Hot humid climates can provide challenges for looking good in summer weather. Choose breathable fabrics and keep out of direct sun between 10am and 2pm.
Looking Beautiful at the Office
Some think of dressing for the office as boring, but it doesn't have to be. You can still exert your own style and flair while still asserting your professional side. Dress to impress!
Looking Beautiful On Your Date
Dating is fun and the best memories come from the person you're with and what you did. For such fun and important memories, you want to remember yourself in a good way. Looking beautiful on your date is simple and doesn't include flashing it all—beauty is more than body.
Looking Stylish at the Office
While office attire most often dictates conservative professionalism, you can still look tailored and put together while incorporating a little style. Even the most conservative dress code will allow for a colored tie or scarf, while business casual allows bright colors and accessories.
Looking Stylish while Pregnant
Maternity clothes can be stylish too! With a little advice, you can find clothes that will help you feel more excited about your growing belly.
Online Clothing Stores
If you dread the thought of bustling from one store to another, then online shopping is for you. You can shop from the comfort of your desktop computer, save time and money you would have spent on gas in your car, and choose to have your items delivered to your home or office on the day you specify.
Picking a Great Hat
Hats are definitely fun and can be a great accessory for any look. If you know how to pick the right one, then you'll be styling and ready to go!
Picking Flattering Shorts
Shorts are great, especially in the summertime when the weather is warm and the outdoor activities many. Shorts are a great way to look great and stay cool, but you do want to wear shorts that are flattering. Here's how.
Prom Fashion Basics for Girls
The number one rule to remember when choosing accessories for your Prom ensemble is never to overpower your dress. The dress should be the focal point of the evening. Enhance the dress with gloves, a wrap, a small clutch, appropriate jewelry, and comfortable but fashionable shoes.
Prom Fashion Basics for Guys
When you choose your tie, belt, socks, and shoes, make sure that those accessories compliment your outfit, as well as your date's dress. Make sure that your trousers are long enough, but not dragging on the floor when you walk. If you are standing, the hem should cover the back of your shoes, touching the top of the shoe sole. Shoes should be free of scuffs and dents, with new laces if they are tied shoes.
Styles that Make You Look Slimmer
Optical illusions are not just in those books you checked out from the library in elementary school, but you can also create an optical illusion of sorts with your body. Use clothes to visually slim your body and give you that look you want.
Taking Care of Your Ties
A tie says a lot about a man. A tie can either bring a whole outfit together or make you look sloppy. Learning how to care for your tie and taking the time to care for your tie will keep your ties lasting longer.
Teen Fashion Guidelines
Before spending your money on the latest trendy clothing, take a look in thrift stores, discount stores, and second-hand stores. The fashions from a few years ago might be back, and you may find something that will cost far less than a new piece of clothing.
The Right Clothing Style for the Right Occasion
Feeling out what's appropriate for what occasion is a heavy responsibility and sometimes very difficult. To hopefully assist you, here's a few ground rules to consider when you're stuck staring at your dresser drawers at a loss for what to wear.
Wardrobe Essentials for Women
Is your wardrobe made up of trendy styles? Then you probably have suffered through the crisis of having a closet full of clothes and still have nothing to wear. This can be taken care of by having a classic wardrobe. Not sure what a classic wardrobe consists of? Find out here what you need for a classic wardrobe.
Wearing an Easter Bonnet with Style
Wearing an Easter bonnet or hat for Easter is back in fashion again! And while many department stores have Easter hats ready made, you can fashion your own by visiting a craft store and adding elements to a hat to reflect your own style.
Wearing Button-Down Shirts for Women
Wearing button-down shirts can help create a versatile wardrobe. But, if you are not wearing the right type of shirt for your body shape the look can be totally wrong. Find out what type of button-down shirt works best for you.
Wearing Cropped Trousers
Out of all the different types of women's trousers, the cropped trouser seems to be a timeless style that can create a crisp and up-to-date look.
Wearing Red
Any woman can wear red, even red-headed women. This can be accomplished by mixing the red with other colors and choosing the right shades of red.
What are Fashion Neutrals?
Sometimes, we end up with certain items of clothing and we aren't sure what to wear them with. If you are unsure of what to pair with a certain color or pattern, you might want to try adding more neutral colors to your wardrobe. These colors work with almost anything, and they can help you to expand your wardrobe possibilities.
What Are SPANX?
Need some extra support but you don't want the look of wearing the support? Try wearing shapewear. Shapewear can help you to achieve the look you want without telling the world that you are wearing support clothing.
What is Beauty?
Ideas, places, objects, nature, and the human body have all been described as beautiful. While we oftentimes think of a handsome man or pretty woman when we hear the word beauty, the term is more encompassing than that. What is beauty? You'll have to decide for yourself.
What to Wear to a Job Interview
Dressing appropriately for a job interview isn't that hard. There are just a few guidelines to follow. Following these guidelines you will be dressed appropriately for any job interview.
When Is Your Clothing Too Tight?
When do you cross the line between fitted and too tight? I propose it's at the point when your stomach is forced up over the edge of your pants, creating an unpleasant sight. Tight clothes don't cut it anymore. Tight is flattering? I think not.
Which Stockings are Right for You?
Shopping for stockings can be a hassle and a frustration. Few people can easily decipher between each brand and the variations on how the stocking looks and the size and everything else manufacturers put into pantyhose that make the decision way more difficult than it should be. It doesn't have to be that scary and here is some clarification.
Which Type of Jeans Look Best on You?
The best jeans have a perfect fit that flatters your specific body type. Once you've determined the best cut of jean, consider the rise, wash, composition, and embellishments. Always choose jeans that fit the widest part of your body, allowing the rest of the material to flow away, creating a sense of proportion.