Nails
When you hear the word nails, chances are pretty good that you initially think about those little metal things that people use to hang up pictures. In the world of personal beauty we are not talking about those little metal things, but rather our fingernails and toenails. When faced with questions of nail care there are several things that we need to keep in mind. Some of the things that a person needs to worry about is nail fungus, ingrown toenails and nail polish. Whatever information you might have in regards to nail care, you can find here.
Tips, Tricks, and Answers
The following articles are available for the 'Nails' topic. Click the article''s title (shown in bold) to see the associated article.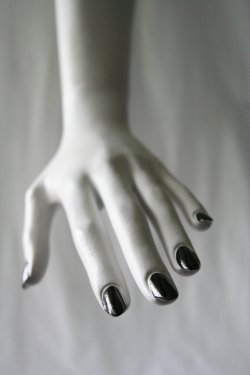 Choosing Artificial Nails
Artificial nails can be fun to wear and can be a fun way to let a piece of your personality shine. When choosing artificial nails however, take into consideration your daily routines and what is and isn't appropriate with fake nails.
Covering Fingernail Ridges
Fingernail ridges can be in indication of certain health problems. If the ridges are vertical, covering the nails should have no health implications.
Filing Your Nails
Use clean or new emery boards, nail scissors and clippers, or metal nail files when filing your nails, and always start by washing your hands thoroughly. You don't have to buy expensive products to file your nails. Visit your local pharmacy or makeup isle in the grocery store to find inexpensive nail products.
Free Nail Designs
Ideas for nail designs can be found everywhere and while the application may not be free, the concepts certainly are! If you want nail designs however that are completely no cost, you can always search the house for potential nail accessories!
Get the Long, Beautiful Nails You Want
Have you ever wanted long, beautiful nails but for whatever reason it just never works out for you? The first thing to evaluate when growing out your nails is the initial health of them. Do you need to work on strengthening and getting your nails back up to a healthy level? Once you do that long nails are no problem!
Getting a Manicure
Getting a professional manicure can leave you feeling relaxed and pampered. Knowing what to expect from a true professional manicurist will make your experience at the salon more comfortable.
Getting a Manicure at Home
Getting a professional manicure is great, but it can take up a lot of time and money. Instead of paying someone to do your nails, try giving yourself an easy manicure at home.
How to Have Strong Healthy Nails
Do you want to have the strong, healthy nails you've always wanted? With just a little time and basic care you will find that you have fingernails that others may even admire.
Long and Natural Nails
Whether you use nail polish or go for a completely natural look, growing long, natural nails should fit in with your lifestyle. If you eat a well-balanced diet and protect your nails, you should have long natural nails in no time.
Manicures that Last
Getting a manicure to last seems like an unreachable goal, but it doesn't have to be. With some little tricks your home manicure can last longer than a week.
Nail Art to Help You Stand Out
Nail art can be either fun or frightening and it's up to you to make that call. You want your nail art to be an outlet for you to express yourself, but you also don't want it to overpower your look. Use nail art to accent your look and give you that something extra you need.
Nail Reinforcement for Weak Nails
Weak nails are a pain to have and seemingly impossible to remedy. Fortunately through simple means stronger nails are possible to achieve and maintain. The simple steps are the keys to healthy nails.
Natural Looking Nail Extensions
Nail extensions are only one of the ways people opt to beautify their nails. You can be born with great nails and not need extensions, or you could have naturally unhealthy nails and want extensions. Before diving into the nail extension commitment (in which you can always find ones that look natural), know the risks and costs associated with it.
Picking a Nail Stylist
Picking a good nail stylist is like finding a good hairstylist. There are certain tactics you need to know how to use and other truths that are good to recognize before going out on the hunt.
Picking the Right Nail Polish
Painting your toes and fingers is always a fun indulgence and a big part of that fun is picking out the colors. While it is mostly fun, picking the right nail polish requires some personal discretion and consideration of your other activities and commitments. If you keep these few ideas in mind as you peruse the nail polish racks, you won't go wrong!
Quick and Easy Nail Care
Keeping your nails perfectly groomed doesn't require a trip to the salon for a manicure or pedicure. Whether you're male or female, following a quick and easy nail care regimen will ensure healthy nails.
Removing Fingernail Ridges
If you are trying to get the look of glamorous or sophisticated natural nails, you may be foiled in your attempts by unsightly ridges. Understanding the ridges—and what causes them—can help you understand how to treat them.
Ridged Fingernails
Just as the eyes are the window to the soul, a ridged fingernail can be an indicator of overall health. There are two types of ridges to be concerned about.
Should I Be Worried about Fingernail Ridges?
Fingernail ridges can be an indication of other health problems, seek a medical professionals advice if horizontal ridges or discolorations appear.
Stop Breaking your Fingernails
Knowing the reasons why your fingernails break can help you determine what steps to take to strengthen them. Avoiding stress, protecting your nails, and addressing any health-related issues can stop your fingernails from being susceptible to breakage.
Stop Your Fingernails from Splitting
Fingernails are one of those things that are easy to take care of, so you should take advantage of that. No one wants weak fingernails, so here are some tips on stopping your fingernails from splitting.
Strengthening Fingernails
Fingernails are one of those things that are easy to take care of, so you should take advantage of that. No one wants weak fingernails, so here are some tips on strengthening your fingernails.
White Spots in Your Nails
Myths and folklore about white spots and lines in fingernails have been around for centuries. They've been called sweethearts, fortune spots, and gift spots. No matter what you call them, they can be simply annoying, or point to a more serious disease. Follow these tips for determining why you have white spots in your nails, and how to get rid of them.