Perfume
What is perfume? Simply put perfume is something that we use (whether you are a man or a woman) to help us smell better to those around us. While it is true that a man uses cologne, and women use perfume, the underlying facts are still the same. Instead of going with some of those cheap colognes or discount perfumes, why not find out what the best possible fragrances are for you. Everyone's personal body chemistry is different, so learn how to get the best possible results here.
Tips, Tricks, and Answers
The following articles are available for the 'Perfume' topic. Click the article''s title (shown in bold) to see the associated article.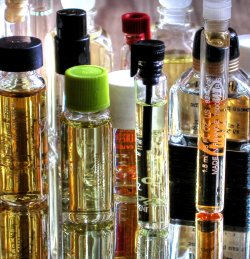 Choosing the Correct Cologne
Cologne can be as individual as you are. It can be your signature scent, if you find the right one. Follow these directions and you should be able to find a pleasing scent in no time at all.
Dealing with Perfume Allergies
While we cannot control the people around us who choose to use heavy perfumes and perfumed products, we can prepare ourselves in the event of a perfume allergy or allergic reaction.
Drive Him Crazy with Perfume
The lingering scent of your perfume can have the man in your life thinking of you, even when you aren't present. With a little creativity, you can use perfume to spice up the romance in your life.
Finding Great Discount Perfumes
Perfume is fun to wear and can really be a great addition to any outfit, but sometimes figuring out how to afford perfume can be a problem. Here are some ways to find great discount perfume.
Finding the Right Fragrance
Finding a new fragrance can be frustrating especially if you aren't sure what type of perfume you are looking for. There are a few things that can help you find the right fragrance for you.
Getting Perfume to Last Longer
Getting your perfume to last longer is not that hard; there are a few things that can be done to accomplish this. With just a little bit of effort on your part you can smell sweet all day.
How to Choose Perfume
Choosing perfume is a personal experience, but a few tips can set you on the right path to finding the right fragrance(s) for you.
Making Perfume Last
It can be discouraging when you spray on perfume only to notice the scent is gone after only a short time. Keep a few tips in mind when applying perfume and the scent will last longer.
Perfume as a Gift
Perfume can be a great and thoughtful gift, but you do need to be careful. Here's how to give perfume as a gift and have it be thoughtful and memorable!
Picking the Right Perfume for You
Perfume can be so much fun and can really be the perfect addition to any outfit, but you need to make sure you have picked the right perfume. Here are some tips on picking the right perfume for you.
What is the Perfume Hoax?
Perfume can be alluring, but it can also be used for nefarious purposes—or so the perfume hoax proposes. Understand the roots of this hoax and don't pass it on to your friends.
When to Pay More for a Designer Fragrance
Designer fragrances are expensive because they are unique, and use the highest quality ingredients. You should pay more for a designer fragrance when you want to wear a unique perfume, making you feel more confident in any situation.