Wedding Clothing
The most important day of your life. You want everything perfect. The photograph with your new husband, each dressed in wedding-day finery, will become an heirloom your children will look at: "Mommy, you were really beautiful!" We have advice, tips, and hints for picking The Perfect Dress. Additionally, we can save you stress by providing some advice on picking the right bridesmaid's dresses.
Tips, Tricks, and Answers
The following articles are available for the 'Wedding Clothing' topic. Click the article''s title (shown in bold) to see the associated article.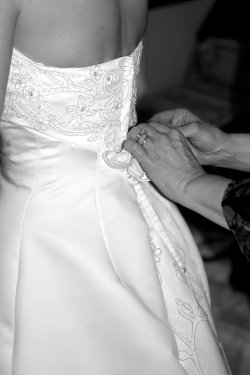 Picking the Perfect Wedding Dress
You are engaged! The date has been set and your first priority is to find that perfect wedding dress. Every woman has her own unique vision of how she wants to look on that special day. Identify what is most important to you in a dress and go find it.
Picking the Right Bridesmaid Dress
The picture of your wedding day is as clear as a bell in you mind. You know exactly what style wedding gown you will be wearing, and the colors you want to use to embellish your wedding and reception locations. All you have to do is convince your bridesmaids the color you want will look great on everyone, and you can achieve it by selecting the correct bridesmaid dress styles.