Shoes
Shoes are more than just something that we put on our feet. These vital pieces of clothing have gone from being simple accessories, to fashion accessories in their own right. There are a wide variety of different shoes that a person can get to help them make a statement. Everything from running shoes to boots, men's shoes and women's shoes is waiting for you to choose from. Let us help you learn all the fashion do's and don't in footwear. It's quick, easy and pain free.
Tips, Tricks, and Answers
The following articles are available for the 'Shoes' topic. Click the article''s title (shown in bold) to see the associated article.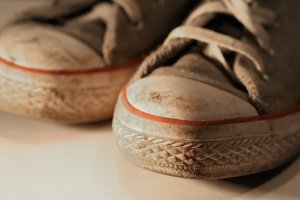 Are High Heels for You?
High heels can be a great fashion addition and can really add sophistication to any outfit, but you may not really like high heels, and that's okay. Before you buy a pair of heels, just make sure that high heels are right for you.
Choosing Running Shoes
Choosing running shoes is more involved than buying everyday shoes. Prepare before you go to the store by determining your foot type, the terrain you will use, and the brand you want. Since running involves friction both within the shoe, and with shoe against terrain, choosing a proper shoe can prevent injury later on.
Classic Women's Shoes
While women are known for having a plethora of shoes, a woman doesn't really need 50 pairs to fit her basic needs. Here are some classic women's shoes that every woman should own to accomplish what she needs to do.
Fashion Guidelines for Shoes
Shoes are a vital part to your sense of style. If you're stuck with shoes, remember these simple tips and you'll be able to get started on improving the fashion of your shoes.
Flattering Shoes for Evening Wear
When you're ready to go out on the town, you want everything to look perfect, and that includes your shoes. Here's how to pick the most flattering shoes for your evening wear.
How to Find the Right Men's Shoes
Wearing the wrong type of shoes is a fashion mistake that just doesn't need to happen. Find out how easy it is to match your shoes with your clothes. It's easy to do with three basic rules.
How to Pick Men's Formal Shoes
Instead of buying them, you may choose to rent men's formal shoes for an elegant evening affair. Visit a reputable tuxedo or men's wear shop and have the assistant help you choose an appropriate shoe for the event. Try them on, make sure there are new laces in the shoes, and walk around in them to determine fit. You can rent formal shoes for about forty dollars.
Picking Prom Shoes
Prom night can be one of the most memorable nights of your high school career and you want it to be completely perfect. Shoes are part of your whole prom experience and they need to be perfect too.
The Best Bridal Shoes
Your wedding is one of the most important days of your whole life, and you want everything to be just right, and that includes your shoes. Here are some tips to help you pick the best bridal shoes.
Wearing the Right Type of Boot
Are you tired of looking for a pair of boots that will actually look good on you because your legs are too short or you have thick calves? You can achieve the look you want by just following a few simple guidelines.