Eyes
It has been said that hey eyes are the window to a person's soul. This has been said so much that this simple truth has been raised to the level of cliche. But what can a person do to help make their eyes as beautiful as they are inside? Depending on the person, and their personal tastes, the answers can very. For example, some people who wear eye glasses consider either contact lenses or laser eye surgery. Let us help you make your eyes the most beautiful that they can be.
Tips, Tricks, and Answers
The following articles are available for the 'Eyes' topic. Click the article''s title (shown in bold) to see the associated article.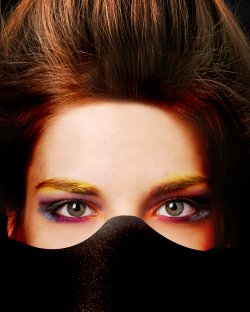 Best Eye Creams
As you age, your face shows it. Get the rundown on various eye creams, and be prepared to combat unwanted fine lines and wrinkles with the best eye creams on the market.
Change Your Eye Color
Technology is an amazing thing. If someone dreams it, another person makes it a reality. Now there is more than one option for changing your eye color.
Changing Your Eye Color
Changing your eye color these days actually isn't too difficult and can result in neat looking effects. Colors contacts aren't just a free pass however and people need a couple of warnings and disclaimers before jumping in.
Dark Circles under Eyes
One of the most common beauty questions asked is about the dark circles that sometimes appear under a person's eyes. Why do they happen and what can one do about hiding them or getting rid of them? Here are some ideas that may help.
Dealing with Puffiness
Sometimes you wake up and just have puffy eyes and you can't get them back to normal in time for work. It's a fact: puffy eyes just happen sometimes, but luckily, there are ways to disguise puffiness and decrease it fast.
Expert Eye Makeup
Is there a way to look fabulous without your own personal makeup artist? With a few simple steps and following the basic tenets of makeup application, you can go from morning breath to knockout in just a few minutes!
Eye Makeup for Evening Wear
Want to change your eye makeup for a night out? With just a few tips, you can make your eyes stand out.
Eye Makeup for Work
You may have mastered the art of beautiful, dramatic makeup. However, more natural-looking makeup is more appropriate for the workplace.
Getting Rid of Bags under Your Eyes
It's never fun to wakeup after a restless night's sleep and have bags under your eyes. It's even worse when you realize that sleep deprivation may not be the whole problem. Here are some ways to help you get rid of and prevent bags under your eyes.
Getting Rid of Dark Circles under Your Eyes
While the dark circles may be a completely natural and normal part of life, they are something that does embarrass us and make us look older and more tired than we really are. Here are a few ways that you can treat those circles, and maybe make them go away.
Laser Eye Surgery
Tired of having to wear glasses or contacts to see? Laser eye surgery can get rid of your dependence on glasses or contacts. For the most part, it is a safe and successful procedure.
Making Eyes Look Bigger
There are some basic things that can be done to enhance your eyes. You can give the illusion that your eyes are larger or rounder by using some tricks with your cosmetics. Using just a few of these tricks you can have bigger looking eyes that "pop."
Permanent Eye Makeup
Permanent eye makeup, while supposedly "convenient," costs more (both financially and otherwise) than it's worth. It defaces your body and loses its initial look later on anyway. Traditional eye makeup is by far more beneficial in the long run and also more respectful toward your body.
Picking Eyeglasses to Flatter Your Face
Now that you're out of the second grade, you need not be "four eyes," but can use your second set to highlight your features and accentuate your assets. Eyeglasses are an accessory and one, if chosen for your face shape, flatters and complements your look.
Removing Eye Makeup
Some people don't know whether or not to remove your eye makeup. Here are a few facts to help you in that decision.
Should I Choose Eyeglasses Or Contacts?
Eyeglasses and contacts both have their merits and caveats and most people use one with the other. This choice is completely up to you so here are the pros and cons of each alternative.
Super Sizing Your Eyes
Tired of your regular make-up routine? Try making your eyes pop to give yourself a whole new look.
Wake Up Tired Eyes
Need to wake up those tired red eyes? Trying to appear well rested when you can barely see through your tired eyes? You can camouflage those red eyes in just minutes with a few clever makeup tricks.