Eye Shadow
What is eye shadow, and how should it be used? This might sound pretty much like a no brainer, but believe it or not, many people do not really know the best way to use this common cosmetic. A brief over view of what eye shadow is supposed to do is rather simple to do. Eye shadow is supposed to help define, and draw attention to, the eyes. The real question is how. Find the answer here.
Tips, Tricks, and Answers
The following articles are available for the 'Eye Shadow' topic. Click the article''s title (shown in bold) to see the associated article.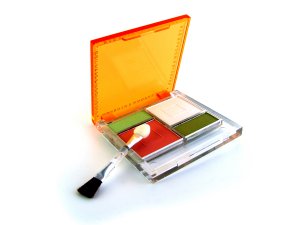 Applying Eyeshadow
Have you ever wanted to apply eyeshadow, but don't know where to begin? Start by thinking of your face as a palette, and then match colors to your skin tone, eye color, and hair. Determine you color palette based on those parameters, and then follow these great tips for applying eyeshadow.
Choosing the Right Eyeshadow for You
When choosing eyeshadow, first determine your skin color, skin tone, and then choose from within those color palettes. Choose opposite colors from your eye coloring to make your eyes really pop!
How to Apply Eye Shadow
With so much makeup out there, it's sometimes hard to know how to correctly use it all. Here is a quick tutorial that can get you started on applying your eye shadow in a classy and sophisticated way.
How to Make Eye Shadow
If you think about how much money you spend on makeup, it's a lot! But if you make your own eye shadow, you not only save money, but you could even end up making money if you decide to sell your creations. Here is a quick tutorial on how to make your own eye shadow.
The Best Eye Shadow for Blue Eyes
Ready to make your baby blues "pop"? With some simple guidance, you can find the best eye shadows for your blue eyes.
The Best Eye Shadow for Brown Eyes
Are you a brown-eyed girl? Read tips on how to make your eyes stand out with the right shades of eye shadow.
The Best Eye Shadow for Green Eyes
Are you one of the lucky few with green eyes? Follow these tips for what colors of eye shadow to use to make your eyes "pop."
The Best Eye Shadow for Hazel Eyes
Hazel eyes are already beautiful, so you want to bring out their beauty with your makeup—not overshadow it. Read more on what eye shadows are best for hazel eyes.