Blush
Blush is one of the more common types of makeup that can be found in anyone's purse or cosmetic bag. But, simply because it is so common does not mean that everyone knows how to use it. Have you ever seen someone put so much blush on, that they end up looking like a life sized cupie doll? Not only is it unattractive when this happens, but it can also be highly embarrassing to the individual that has misused the blush. Help save yourself, and those that you care about, the pain and embarrassment when this happens. Take a look at our ever increasing library to learn all the ins and out of this tricky cosmetic item.
Tips, Tricks, and Answers
The following articles are available for the 'Blush' topic. Click the article''s title (shown in bold) to see the associated article.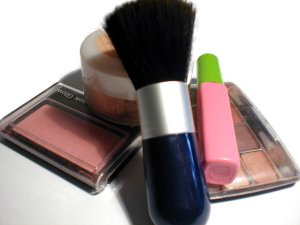 Applying Blush
Blush is one of the simplest cosmetics to use and is a quick way to start finishing up your look. Just remember a few simple tips and a few things to avoid and you'll be ready to go!
Applying Liquid Blush
Does your make-up routine need a pick-me-up? You can use liquid blush to give your face some color and a healthy glow.
Applying Powder Blush
Powder blush is a powerful make-up tool that helps your face to look healthy and refreshed. With just a few simple tips, you can apply blush like a professional.
Choose the Best Blush For You
The best shades to use are close to your natural blush color or play off your skin tone. Don't be afraid to try a new texture of blush. Each product gives you a different look and has a different feel so play around with color, texture and looks until you find one you like.
Choosing the Right Blush
Blush is sometimes just the right touch you need to set off your look, so you need to find the right one. Here are a few tips to keep in mind as you make your choice.
Cream Blush
Blushes come in many shapes and forms, and one of those forms is in a cream. While intimidating at first, cream blushes actually aren't that hard to use.
Mineral Blush
What's the big deal with mineral makeup? If you're wondering, then read on. This article deals specifically with mineral blush, telling you the difference and how to apply it.