Wrinkles
"Jewelry takes people's minds off your wrinkles." (Sonja Henie)
But in the absence of jewelry, we who have experienced Time need not be adrift on a sea of modern disapproval. If you're not quite to "Wear 'em with pride" defiance, we have tips on combatting wrinkles: everything from wrinkle creams and wrinkle prevention to wrinkle control and wrinkle removal.
Tips, Tricks, and Answers
The following articles are available for the 'Wrinkles' topic. Click the article''s title (shown in bold) to see the associated article.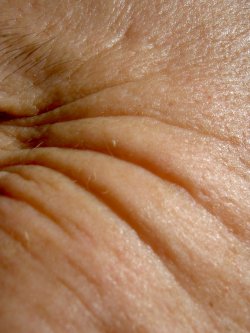 Best Anti-Wrinkle Creams
Are you afraid of wrinkles? Getting older is inevitable, but with anti-wrinkle creams, you may have some control over how old you look.
Best Wrinkle Creams
Sick of seeing those wrinkles bunch up around your eyes and on your forehead? Take control and look into wrinkle creams. Here is some advice on how to find the best wrinkle creams for you.
Do Anti-aging Creams Really Work?
Are anti-aging creams really too good to be true? These creams may lessen the appearance of wrinkles, but they won't stop wrinkles from coming.
Getting Rid of Wrinkles
You never think you'll get wrinkles and looked aged, but the facts are, you will. Here are a few tips to help you take control of your wrinkles.
Preventing Wrinkles
As we age, our bodies lose suppleness due to lower production levels of collagen, elastin and hyaluronic acid. Healthy diet, good skin care and minimal sun exposure can make a difference in how quickly skin ages.
Reducing the Appearance of Wrinkles
Wrinkling occurs when the skin loses elastins and collagen which naturally occur to keep skin smooth and supple. There are several non-evasive ways to reverse the signs of aging.
Removing Wrinkles
No one wants wrinkles, despite wrinkles' reputation for indicating wisdom and experience. If you have wrinkles you'd like to remove, here are some tips for you to follow.
Wrinkle Treatments
Think you'll never get wrinkles? Think again. Here is an explanation on some of the wrinkle treatments available, and now you'll be able to better combat unwanted lines and wrinkles.