Hair Care Products
The Hair Care aisle in any supermarket worth its lettuce has more products and new concoctions than any area with the possible exception of the pills aisle. Every box and bottle boasts it can give you heavenly hair like the model on the label. This may be true. The key is knowing "what" and "how to use." We have a beauty shop's library of advice and tips, from choosing a product to picking the best conditioner and how to use it, from selecting a shampoo, hairspray, and anti-frizz to organics and the care and use of curling irons and hair dryers. Dolly Parton may have said, "I don't trust a woman who does her own hair" in Steel Magnolias, but these are the DIY years of the 21st Century!
Tips, Tricks, and Answers
The following articles are available for the 'Hair Care Products' topic. Click the article''s title (shown in bold) to see the associated article.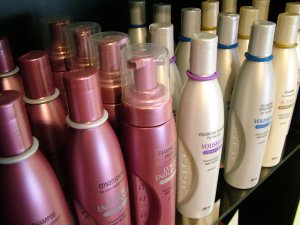 Applying Hairspray for a Natural Look
You usually want your hair to look natural and hairspray can either help you in that endeavor or destroy that goal. Make sure the hairspray you use helps your natural look.
Choosing Anti-Frizz Hair Products
Humidity is often a beastly enemy for some of us due to the way it tortures our divinely coiffed manes. It can take a head of beautifully styled or straightened hair and suddenly turn it into something that looks like a fuzzy, curly brillo pad.
Choosing Hair Care Products
With so many hair care products available, how do you decide which product is best for you? By using these simple guidelines, you will be able to determine exactly which product you should use.
Different Kinds of Hair Styling Products
With all the different types of hair styling products available it can be overwhelming. There are only four basic hair styling products. Learn where you can buy different products and what some of the different products are.
Do I Need a Conditioner?
Conditioner is one of those products you see advertised all the time and you may think it's one of those universally understood and necessary hair products. It's not requisite for great-looking hair, but it does offer many advantages.
Organic Hair Care
Switching to organic hair care products can be good for you and the Earth. You can usually achieve the same results with organic products as with regular ones.
Picking a Good Conditioner
Like most other hair care products, conditioner is varied and ultimately a personal hygiene choice. While it is up to you what you use, here are a few tips to get you pointed in the right direction.
Picking a Good Shampoo
Are you puzzled on how to find the right shampoo for you? You need to remember to take into consideration your hair type and what you want for your hair; once you do that picking a good shampoo is a piece of cake!
Properly Using a Hair Dryer
Hair dryers are typically a vital tool in achieving the perfect style for your hair. Whether or not you are saving your waves and curls or blowing them out for a sleek, straight look, the one accessory that makes it possible to achieve the pinnacle of perfection is your hair dryer.
Using a Curling Iron Properly
Curls add character and sexiness to your look. Since every woman was not born with gorgeous cascading curls, they need to turn to alternative measures to achieve the desired style. Curling irons are a great tool for adding instant change to otherwise straight hair.