Feet
Feet can be a horrible detriment to personal beauty. On the flip side, feet can also be an asset to beauty. If you are looking for beautiful feet, it is much, much more than just having pretty toes and toenails. It is also about shoes, calluses and even how to prevent ingrown toenails. In or constantly expanding library we have the information that you are going to need to have perfectly pretty feet in every way.
Tips, Tricks, and Answers
The following articles are available for the 'Feet' topic. Click the article''s title (shown in bold) to see the associated article.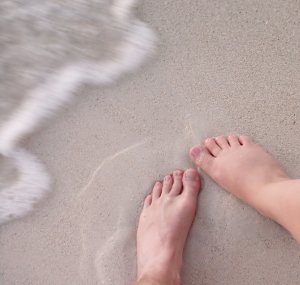 Cracked Heels
Cracked heels can be both painful and unattractive. Find out how with just a little bit of time and attention to your feet you will find those painful cracked heels to be gone.
Curing Foot Odor
No need to be embarrassed by the smell of your feet. Soon you will be taking your shoes off without anyone being able to tell by the odor of your feet. Here are some sweet-smelling tips to help combat foot odor problems.
Getting a Pedicure at Home
Going to the salon for a pampering pedicure can become costly and inconvenient. Instead, try doing a pedicure at home with many items you may already have around the house.
Getting Rid of Rough Skin on Your Heels
With the daily wear and tear we inflict on our feet, it's no wonder there's rough skin all over our heels. If you deal with rough skin on your heels, then here are a few ways to help you get rid of it.
Relaxing with a Foot Massage
Foot massages are great for relaxation and stress alleviation. If you're stressed and need some relaxation, look into a foot massage and you'll never regret it!