Bras
For the uninitiated, bras can be extremely confusing. Are they underwear, or lingerie? And where does the whole sports bra thing figure into everything. One of the more confusing aspects of the bra is trying to size yourself up for one that fits properly. Why is it that everything has to be so confusing? Everything you need can be found here, you won't be disappointed if you take a look.
Tips, Tricks, and Answers
The following articles are available for the 'Bras' topic. Click the article''s title (shown in bold) to see the associated article.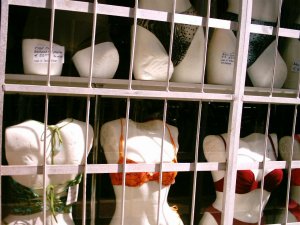 Different Types of Bras
Knowing what type of bra to wear can be a bit confusing, especially when there are so many different types available. Learn about some of the more popular bras and what they are used for.
Finding the Right Bra Size
Finding the right bra size isn't that hard. With just a couple of hints you can be wearing the perfect sized bra.
How Do I Know If an Underwire Bra is Right for Me?
There are so many different types of bras out there so how do you know what's right for you? You might want to check out the underwire bra and see if it works for you—it could definitely change the way you shop for bras!
How to Pick the Right Type of Bra
Finding the right bra can be frustrating and exhausting. With so many options and choices in just one area of the department store, bra shopping can be overwhelming and discouraging. So before you head into the store, here's a few tips to keep in mind.
Mastectomy Bras
Adjusting after a mastectomy is difficult and may take a long time. To help with your adjustment, you need to know what's available to you, especially as far as mastectomy bras go. Get on your way to being comfortable again with your body.
Measuring for the Perfect Bra
Measuring for a bra is surprisingly easy. You only need to measure two places and do some simple arithmetic and you're ready to go.
Nursing Bras
Having a new child is overwhelming, and having to stress about nursing is something you shouldn't have to stress about. Learn about nursing bras, and make nursing an enjoyable part of being a new mother.
Understanding Bra Size
Have you ever been overwhelmed with the task of finding a bra that fits? If you first understand bra size, then you'll be better able to find a bra that fits and complements your breasts.